India has many Vedic compounds, which are mostly known for their healing as well as beautifying compounds. Nalangu maavu is among one them. Nalangu maavu is an exotic bath powder just like ubtan in northern India. Nalangu maavu has its influence all over south India and Tamil Nadu is a state where people prefer it highly.Have you wondered about what are Nalangu Maavu Ingredients?
Nalangu maavu is natural and Ayurvedic. The Nalangu maavu ingredients are mostly found either in the kitchen or in a home garden. Nalangu maavu is also highly preferable not just because of customs but rather for its effect after usage. Nalangu maavu can be prepared at home as well as it is available in stores in packages.
What are the Nalangu Maavu Ingredients?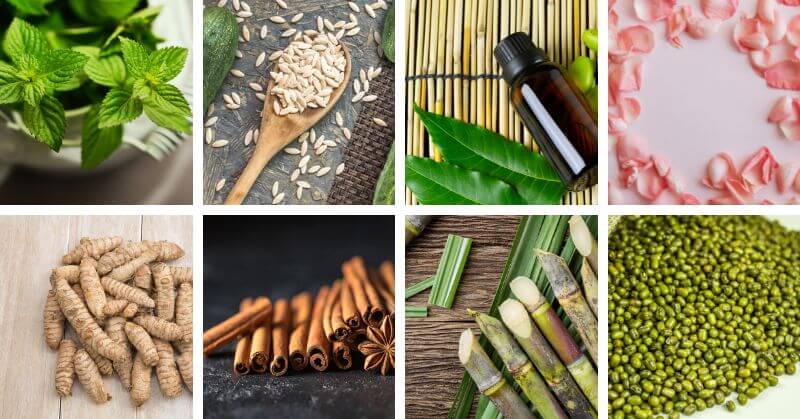 Nalangu maavu ingredients include:-
the green grams
white turmeric
Kasturi turmeric
Cucumber seeds
Mint leaves
Neem leaves
Vetiver
Rose petals
Sweet cane
Cinnamon
Champak
Muthakach khus
Indian sarsaparilla mainly other ingredients can be added as per the users choice.
How To Make Nalangu Maavu At Home
The creation or making of nalangu maavu is no rocket science all you have to do is take the nalangu maavu ingredients like the green grams, white turmeric, kasturi turmeric, cucumber seeds, mint leaves, neem leaves, vettiver, rose petals, sweet cane, cinnamon, champak, muthakach khus, Indian sarsaparilla and grind them into a fine paste you can do it either in a pestle and mortar or you can use mixer and grinder for this purpose. Once ground, the mixture is ready.
To store the mixture always use an air-tight container, and try to use the dry mixture for a week also store brought nalangu maavu to have preservatives so it is more convenient both for application and storage as you do not have to grind the things or prepare it from scratch also storage is pretty convenient and long-lasting due to preservatives.
How to use Nalangu Maavu?
Nalangu maavu can be used in various ways like a cleanser for body and face both, face or body scrub, face pack, body wash or body pack and with various ingredients like rose water, curd, or even just water serves the purpose.
To use as a face wash:- just add water and wash your face like a normal cleanser. To use as a scrub, add rose water and rub the powder on the skin like a scrub. Also, to use as a pack whether for body or face combined with yogurt or curd, apply and wash after it dries completely.
Top 3 Benefits Of Using Nalangu Maavu
Nalangu maavu is a traditional recipe and custom for south Indian brides to add to the beauty regime before the wedding, which means it has many benefits. Let us know one by one:-
Nalangu maavu provides glow in the applied area.
Nalangu maavu helps in fighting suntan without harming the skin.
Nalangu maavu is also known for restoring the skin pH level and reducing acne and other pimple issues.
Summary!
Nalangu maavu ingredients are age-old Ayurvedic recipes, with zero side effects. Also, using these products regularly will brighten up the skin and will add a glow to the skin by taking care of it through the natural ingredients present in it.
Also Read: 10 Easy Ways To Make DUSKY SKIN HACKS Faster
Follow Us: Facebook | Instagram | Twitter | Pinterest