Dusky skin color is a beautiful color in nature. There is nothing like white or wheatish is a beautiful color in today's trends. If so, we should be happy with the color we blessed. Dusky skin is not an ugly or lesser beauty than white or wheatish. Maybe it is a little darker than the wheatish color. But it is not such a worrying thing. You can make your dusky skin shine and fair with some beauty and skincare hacks. You will be seeing the hack tips in the below section.
What is Dusky Skin Color?
Dusky skin is a type of skin color that look-like a light brown skin tone and little darker than a wheatish tone. The dusky skin is also called "tanned" or "sun-kissed" skin. This dusky skin is like natural light brown color. One thing that everyone should know is that skin complexion is based on melanin content. In some people, the dark spots are possibly due to the high melanin content. The dusky skin complexion is common in Indians. It is due to the genetics and proximity of the equator.
Today the thought about beauty has changed. A fair complexion is only not the beauty standard. It is the point where everyone is there today. An individual with dusky skin can also look gorgeous and vibrant. However, to improve skin tone and maintain youthful and beautiful skin, there is a need for beauty hacks to keep your skin long beauty.
Dusky Skin Beauty And Skincare Hacks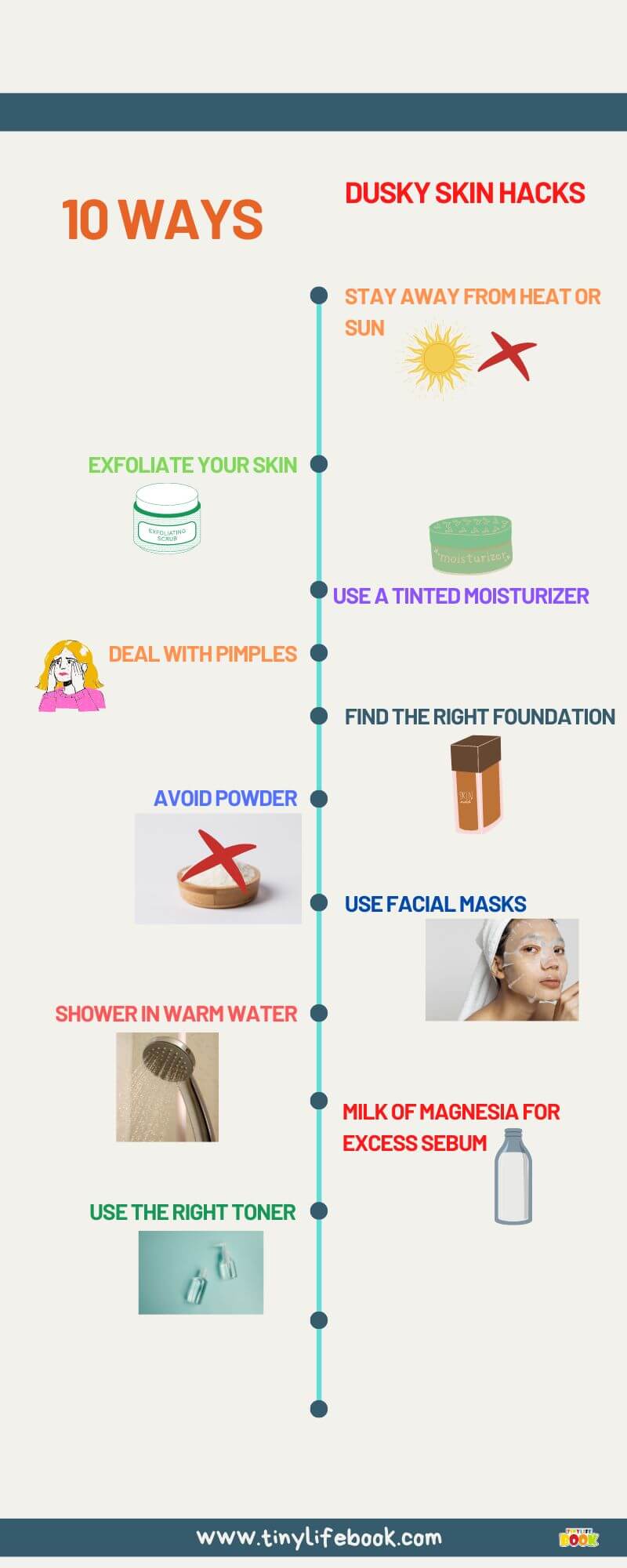 The beautiful dusky skin tone may fade if you expose your skin to sunlight or aging. No one wishes to show their dull skin, especially women. So, what can do to keep the skin healthy and shiny? Let us see some tips here.
Stay away from heat or sun
Sun exposure can cause damage to the skin and its tone. To prevent this sun damage, you can be preventive by taking necessary measures like applying sunscreen or sunblock. The SPF of sunblock should be higher or equal to 30. Avoid unnecessary outings in the sun and try to go in the shade or stay at home.
Wearing a light scarf or wide-brimmed hat is another preventive measure to protect your skin from sun damage.
Exfoliate your skin
Exfoliation helps to keep your skin healthy and flawless. Dusky skin can easily attract dust and impurities than lighter skin tones as it is oilier. Regular exfoliation helps in removing dust particles, accumulated sebum, and impurities. Exfoliation is the best way to remove the dust that clogged the skin.
What can use for exfoliation? The excellent combination is the gram flour and curd. The scrub made from this combination is the best home remedy for exfoliation. The other mixture you can try is sugar granules and olive oil.
Use a tinted moisturizer
Most people prefer the foundations to lighten their skin artificially. But not all foundations work better. They may make the skin looks artificial and unnatural. Even it makes the skin look blunder. The best solution for this is the mixing of tinted moisturizer with your regular foundation. The formation of rough and ugly patches gets reduced after this as it can make the foundation spread evenly. The tint also helps to give a natural and beautiful skin tone.
Deal with pimples
Acne breakouts, blackheads, and pimples are common in dusky skin. You have to deep clean your skin to reduce or avoid frequent episodes of acne. Use an herbal facial cleanser to clean the pores. Cleaning twice a day gives a better result. Keep the open pores open by cleaning regularly which helps the skin to breathe freely. Before going to bed removes your makeup as it will aid pores to open. Don't forcibly pick your pimples. It may cause several breakouts.
Find the foundation that helps
Finding the right foundation is one of the best solutions for your skincare. The foundation cream or compact must match your skin tone. It helps in avoiding masking the skin with unnatural and different shades. Choose the best match for your skin. In failure, there is a chance for the skin to appear pale. Liquid form foundation is the right form for dusky skin.
Avoid powder
The excess sebum in dusky skin keeps them shiny all time. If you apply excess face powder, it can make your face uneven and cakey. The overuse of face powder may change your face ashen and grey. Avoid using powder anyway.
Use facial masks
Dusky skin can easily become dry comparing other skin complexions. So, it is necessary to keep them hydrated and moisturized. Applying any homemade or herbal mask might help you to have radiant, clear, and healthy skin. Follow this practice at least once a week to see the positive effect.
Showering In Warm Water Helps
Showering in hot water may give a relaxing mood before going to bed. But it is not the best option for people with dusky skin. It may remove the oily substances from the skin and make your skin appear dry and stretchy. Taking bath in lukewarm or warm water helps the dusky skin to retain the moisture in the skin.
Milk of magnesia for excess sebum
Excess sebum can make you oily and form a clog. Oily skin is the biggest problem for people with dusky skin when taking skincare into account. Using milk of magnesia before applying herbal moisturizer will keep your skin free from an oily and greasy appearance. It helps to keep your skin moisturized.
Use the right toner
Using the right toner that matches your skin tone will keep your skin free from acne and pimples. It exfoliates and gets rid of impurities and dirt accumulation from your skin.
Final Words
These are some beauty hacks that you can keep your dusky skin healthy and shiny. In addition to the above-mentioned hacks, you can select the makeup hacks that work for your skin complexion.   By following the matching beauty and makeup hacks, you can keep your skin young always.
Follow Us: Facebook | Instagram | Twitter | Pinterest